---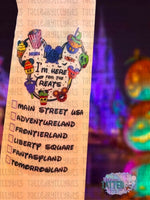 TATTOO MEASURES APPROXIMATELY 4 INCHES IN LENGTH
Introducing our Mickey's Not-So-Scary Halloween Party Candy Hunt Checklist Tattoo - the ultimate companion for a spooktacular and sweet adventure!
Make your visit to Mickey's Not-So-Scary Halloween Party at Disney World even more magical with our specially designed temporary tattoos. This unique product is perfect for families and groups looking to have a thrilling candy hunt throughout the park and create wonderful memories together.
Product Features:
1. Exclusive Design: Our tattoo features an enchanting design with your favorite park sweets and treats, adding an extra touch of magic to your party experience.
2. Candy Hunt Checklist: The tattoo includes a checklist of each land where you can locate Candy throughout the park during the event. Use it as your guide to ensure you don't miss out on any delicious surprises.
3. Premium Quality: Made with safe, non-toxic materials, our tattoos are gentle on the skin and suitable for all ages. They are easy to apply and remove, making it hassle-free for the whole family.
4. Water-Resistant: Designed to withstand sweat and light splashes, the tattoo stays intact during all your Halloween adventures.
5. Shareable Fun: Perfect for families, friends, or solo visitors, our Candy Hunt Checklist Tattoo sparks excitement and camaraderie as you embark on this delightful adventure together.
Instructions:
1. Apply the tattoo to clean, dry skin.
2. Press a damp cloth or sponge on the tattoo for 30 seconds.
3. Carefully peel off the paper backing to reveal the Halloween Candy Hunt Checklist Tattoo.
4. Take the checklist along with you to the party and mark off each treat you discover throughout the evening using a pen or marker,
Celebrate the Halloween season with this fun and engaging Mickey's Not-So-Scary Halloween Party Candy Hunt Checklist Tattoo. As you immerse yourself in the festivities, be prepared for a night full of joy, laughter, and, of course, plenty of delightful treats!
Please note that the design is carefully crafted to ensure a memorable experience, and our team is always available to assist you with any questions or customization requests. Let the Halloween adventure begin! Happy haunting!